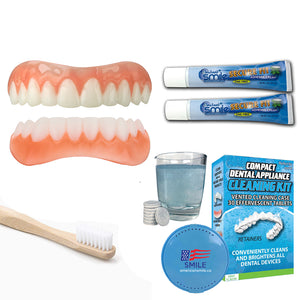 Are you looking for the full American Smile experience? Look no further!
The Ultimate American Smile Bundle contains everything you need to bring renewed confidence to your smile this upcoming holiday season.
The bundle includes:
1x American Smile Upper Veneer
1x American Smile Lower Veneer
1x American Smile Cleaning Kit
2x American Smile Adhesive Cream
**Brand New** - 1x American Smile Bamboo Toothbrush
Crafted from high quality bamboo materials, the American Smile Bamboo Toothbrush is specifically designed to help you take better care of your American Smile Veneers. 
Did you know that a standard toothbrush can damage your veneers? The Bamboo Cleaning Brush features ultra soft bristles that provide a full cleaning experience without damaging the veneers.
This brush is also perfect for individuals with dentures.